Formal Wear Donations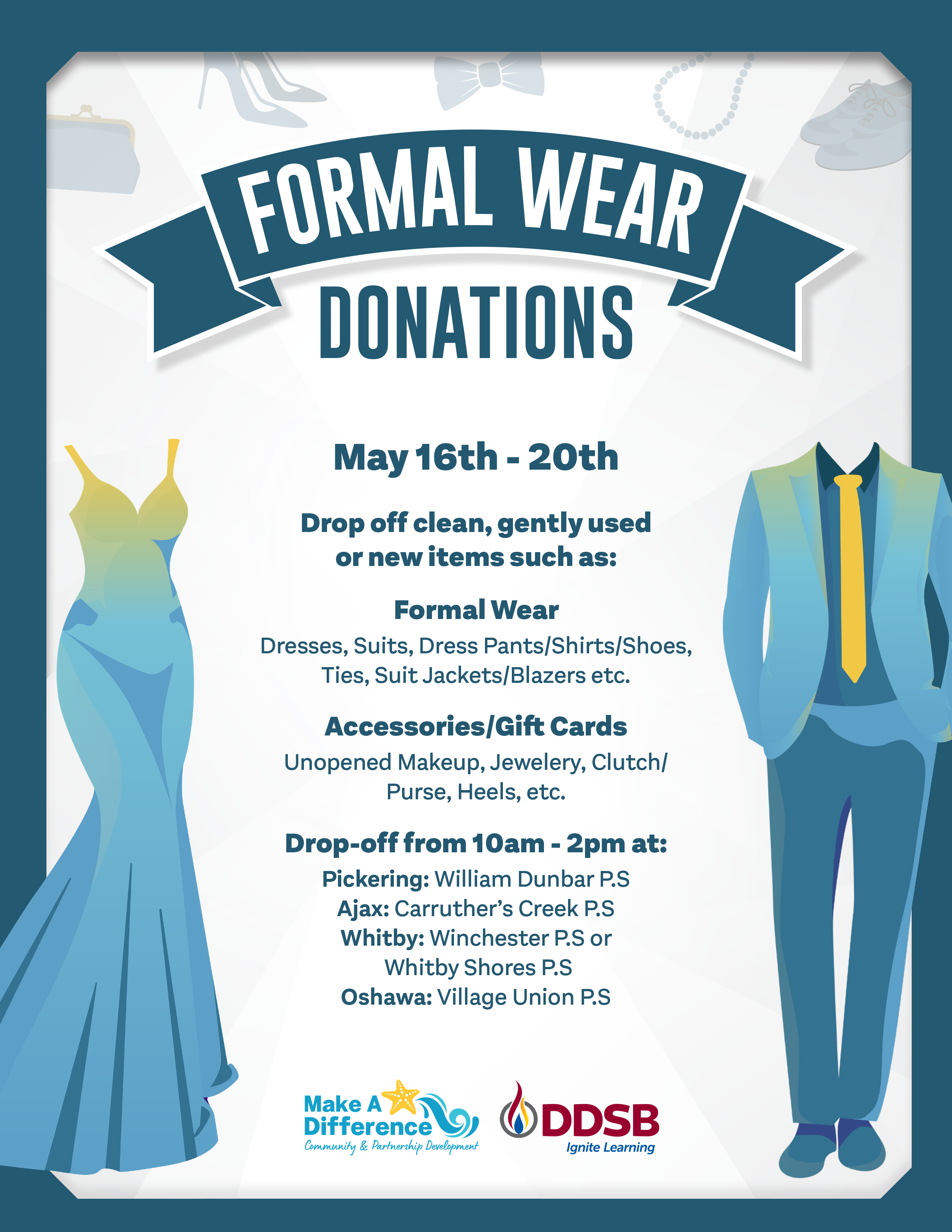 Commencement 2021-22
We are delighted to inform you that we are planning on the return of an in-person graduation ceremony to be held on Wednesday, June 29th, 2022, at 10:00 a.m. at the Scarborough Convention Center. As a reminder these plans are tentative according to the provincial pandemic guidelines and the mandates set forth by the department of health at the time of graduation. Graduates may bring up to 4 guests to the ceremony and must make a request to their VP for any additional guests.
With this exciting news, we have many details and arrangements to be made in advance of the ceremony. We are introducing on Monday, March 28th, 2022, the Commencement Fee of $25.00, that can be payable on SchoolCash online. This fee will include your graduates cap, gown, and individualized graduation photo. Students MUST choose their appropriate gown size in the SchoolCash online portal, to ensure they have the correct size for graduation day. The SchoolCash online window for the Commencement Fee MUST be paid by all potential graduates and will close on Thursday, May 12th, 2022. Students will be able to pick up their cap & gown the week of June 12th, 2022, in the guidance office.
https://ddsb.schoolcashonline.com/Fee/Details/105522/102/False/True
There will also be a graduation BBQ, to be held on Tuesday, May 24th, 2022, in conjunction with our MADD assembly, to celebrate our graduates and their accomplishments. There is no fee for this years BBQ. More details will follow closer to the event. If you would like to attend the in-person graduation BBQ at Pine Ridge, PLEASE REPLY TO THE EMAIL and let us know that you will be attending.
There is also a graduation semi-formal dinner and dance on Friday, June 10th, 2022, from 6pm -10pm at the Ajax Convention Center. More information will be posted on the pineridge_sac instagram account. Tickets are $75.00 and are also available on schoolcash online. This event is for PRSS graduates exclusively. However, guests may be permitted to attend. A guest application form must be completed and submitted to the graduate's vice principal PRIOR to purchasing a ticket. Be advised that if the guest application is not approved there will not be a refund for any tickets purchased. Guest approval decisions will be made by administration and are final. Once student attendees have entered the venue they are not permitted to leave and then re-enter. All attendees are required to comply with school board code of conduct. Any breach of the code of conduct will result in removal from the event without refund. IF YOU WOULD LIKE TO ATTEND EMAIL MRS. BIFFIN IN GUIDANCE OR CALL 905-420-1885 ext. 232022 AND WE WILL GET YOU THE INFORMATION ON HOW TO PURCHASE TICKETS FOR THIS EVENT.
Please remember, Gr 12 graduates also need to submit their 20 hours of completed community service involvement. Completed forms MUST be submitted to the guidance secretary no later than Monday, May 2nd, 2022.
Commencement 2020-21
Congratulations to the Pine Ridge Secondary School Graduating Class of 2021!
Please accept our best wishes for a great summer and good luck on the next chapter of your journey.